Review of Agency Regulations Comment Submission Form
---
As is described in more detail at 29 Del. C. § 10407, certain executive branch agencies are required to conduct a periodic review of regulations that were adopted pursuant to the Administrative Procedures Act four years ago or more and for which they have direct promulgating authority. The review period for each participating agency is as follows:
Review Period 1: June 1st, 2016 – September 1st, 2016
Delaware Department of Transportation
Delaware National Guard
Department of Safety and Homeland Security
Review Period 2: July 1st, 2016 – October 1st, 2016
Department of Agriculture
Department of Services for Children, Youth, and their Families
Delaware Economic Development Office
Department of Education
Department of Finance
Review Period 3: August 1st, 2016 – November 1st, 2016
Department of Health and Social Services
Department of Labor
Office of Management and Budget
Department of Natural Resources and Environmental Control
Department of State
During an agency's review period, interested members of the public can submit comments on regulations under review by that particular agency by using the form below.
---
Date: Thursday, May 25, 2017
Did You Know?
---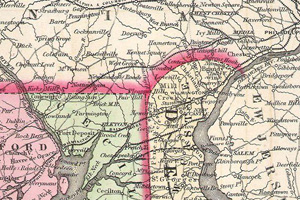 Delaware shares a semi-circular border with Pennsylvania. The border was drawn at the time of the original land grants to William Penn from King Charles II and the Duke of York.
What's Trending
---
Attorney General
State Treasurer
Motor Vehicles
Labor
Corporations
Education
Governor
Health