Delaware Recycles
What's New
---
The commercial sector in Delaware must take part in a comprehensive recycling program. Universal, comprehensive recycling is required by Delaware state law. This includes for profit and not-for profit retail and wholesale stores, offices, food service establishments, warehouses, and other manufacturing, industrial, or processing activities. And it includes institutions such as social, charitable, educations, health care, professional, and government services.
Waste haulers are required to provide single-stream recycling collection to both single and multi-family residential customers, and most bars and restaurants. The goal of the Universal Recycling Law is to maximize the convenience of recycling and minimize the amount of trash disposed in Delaware. Recycling keeps raw materials in the manufacturing sector, creates jobs, and promotes sustainability.
More Information
---
Did You Know?
---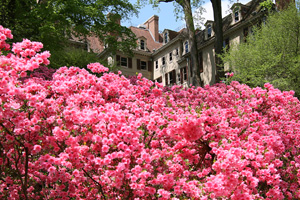 Winterthur Museum, Garden and Library, six miles northwest of Wilmington features one of the world's finest naturalistic gardens.
What's Trending
---
Attorney General
State Treasurer
Motor Vehicles
Labor
Corporations
Education
Jack Markell
Health